Your brand is probably your greatest asset when it comes to building loyalty among your guests. And the manifestation of your brand in today's digital world is your website. It is the place for discovery, inspiration, emotional connections, persuasion, and ultimately, conversion. MediaConcepts' sole focus is on the hospitality industry and we've spent years understanding, designing and developing hotel websites that not only look great, work well on all devices, but also deliver the best possible user experience.
We don't stop there either. We will work with you to continually evolve your website as your business grows and communication channels evolve to include chat and voice.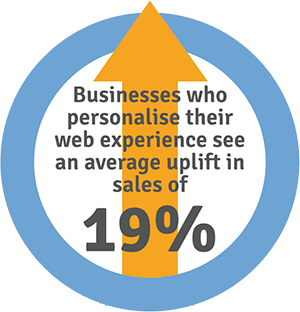 We firmly believe in personalisation and our research shows that we are right to do so. Using a combination of business algorithms, user data and machine learning (AI), we can display content dynamically on your website to increase engagement and conversion.
A hotel website is not complete without a booking mechanism. Why direct users to an external booking engine that is not part of your website when you could stand to gain valuable insights by having a fully integrated and customised booking journey? These insights will allow you to offer a deeper level of personalisation during browsing and booking and give you best control over the entire user experience.
Whether it's developing a customised booking interface, integrating external content and tools like guest reviews, guest generated content or online chat, we've got the skills and experience to make it all work seamlessly for you.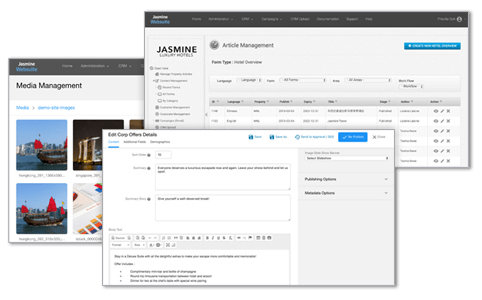 Keeping content fresh is easy with Jasmine CMS, a web-based content management system that we've developed specifically for hotels and hospitality groups. Anyone familiar with standard office applications will be able to create, edit and publish content without having to worry about formatting. User rights can be configured for better control over the content approval process. We also employ advanced security features like two-factor authentication for access to Jasmine.
Jasmine supports multi-languages. Our workflow allows for content creation, translation and approval to be managed easily even under complex processes.
We know providing images in the right dimensions for different areas within your website can be a nightmare. That is why we've simplified this for you. Any image you upload into Jasmine CMS can be cropped to any of the pre-set dimensions being used in your website with a single click.
Jasmine CMS is part of Jasmine WebSuite, a digital platform we've developed specifically for the hospitality industry. Complementing Jasmine CMS are eight other modules that provide extended capabilities to your website.
stores and manages user profiles and preferences, to allow segmented targeting and personalisation on your website
---
e-mail communication platform with real-time tracking and reporting
---
provides a customised booking interface that integrates with your PMS and/or CRS for better flexibility and control over your direct online booking experience.
---
simplifies the management of your corporate booking process
---
provides a convenient booking interface for groups and event organisers
---
synchronises content between Jasmine CMS and your social media channels
---
allocates, stores and manages loyalty points to allow seamless integration with your website and online booking
---
automates rates and availability retrieval by your travel partners, while allowing them to book through their own systems
---