A personal touch goes a long way. A simple gesture that shows you paid attention to what a guest likes can make a difference to the review you get, and whether or not that guest returns for another stay. There is so much you can learn through the way your guests behave on your website, the types of requests they make before or during their stay, or even when and how they book. MediaConcepts helps you to harness this knowledge and make every digital interaction you have with guests as relevant as possible, to simulate that personal connection you often get with someone familiar.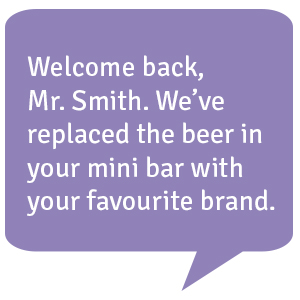 We will work with you to analyse behavioural and transactional data available, define the business logic to apply, determine where and how you want content to be dynamically pulled, then build these algorithms into your website and booking journey. Machine learning and personalisation tools are an integral part of our content management system (Jasmine CMS) so any new content you create can be targeted to specific segment of guests. Through machine learning (AI), Jasmine looks at your website and online booking data to determine which room types, packages and even add-on purchases your guests are more likely to book and prioritise these in the search results.
Another great way to make use of personalisation is to re-target abandoned bookings. In addition to sending guests an e-mail, a prominent link right on your website homepage can be an effective way to remind them of their incomplete booking. Jasmine does all this for you.